Once in a while, I taste a wine that stops me in my tracks. Something about its unique combination of fragrance, flavor, and texture provokes me to blurt out: "Oh, wow!" I happened upon one of those wines exactly a year ago (2022) in the Sierra Foothills. Remarkably, this wine appears to be endangered. Like a rare flower, the vineyard came to life under mysterious and unlikely circumstances. It somehow fell into the right hands, and for years it has been able to produce beautiful wine. But in our rapidly changing climate, it may soon be gone forever.
First, some background: The Sierra Foothills is a sprawling wine region that fits between California's fertile Central Valley and the Sierra Nevada mountain range. It stretches from Mariposa county in the south all the way to Yuba county in the north.
Growing season temperatures are generally warm. The region is far enough east and inland to negate the cooling effect of the Pacific Ocean. However, vineyard altitudes range from 1 – 3,000 feet, and these high elevations mitigate the heat. Nighttime temperatures can drop drastically in places where cold air spills down from the mountains.
In wine terms, the calling card of the Sierra Foothills is its wealth of old vine material. The forty-niners who didn't strike it rich with gold resorted to planting vineyards – a habit carried over from the old country. Their Southern European heritage is apparent in the grapes they planted: Zinfandel, Barbera, Syrah, Cinsaut, and other Mediterranean varieties.
The Foothills are peppered with quaint, historic towns that seemingly haven't changed much since the Gold Rush days of the 1800's. The town of Murphys, in Calaveras County, is a fine day trip destination. Its tree-lined streets are dotted with tasting rooms, saloons, restaurants, and emporiums. Two top addresses to visit are Newsome-Harlowe for delicious single-vineyard zinfandels (ie the Donner Party and Shake Ridge vineyards) and Vina Moda for stylish Grenache and Syrah blends.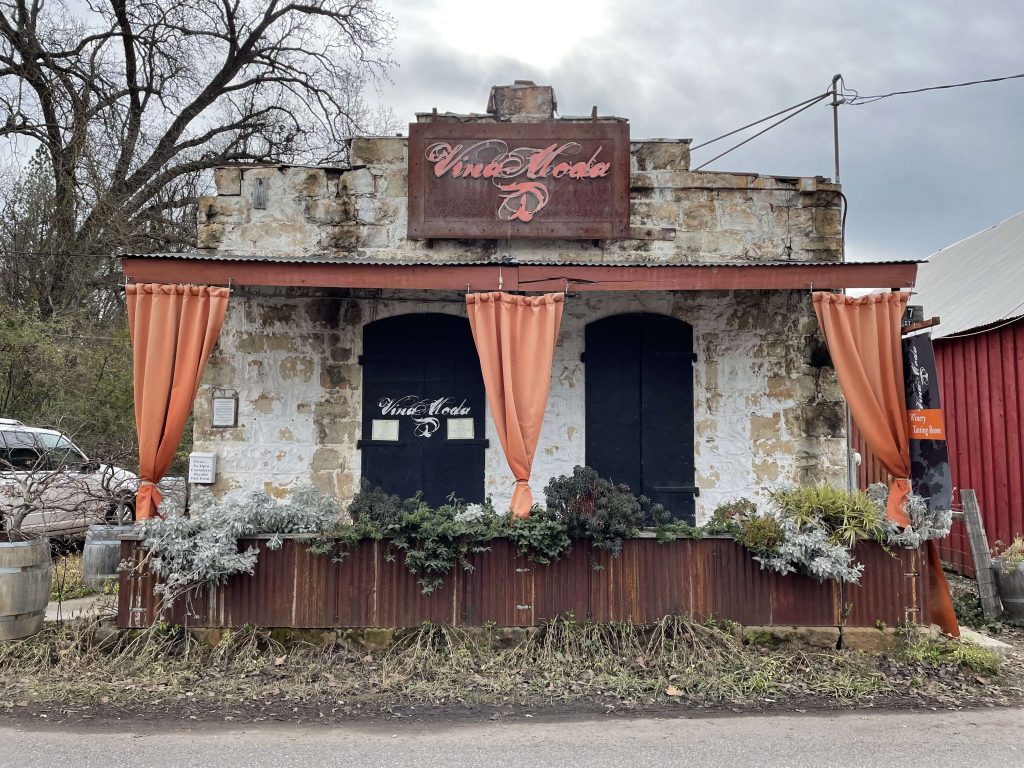 Just to the north, Amador County boasts the oldest zinfandel vineyard in California: the "Grandpere Vineyard." Scott Harvey's "Vineyard 1869" bottling is a quality example. This wine achieves noticeable depth, intensity, and flavor concentration thanks to the age of the vines. Scott Harvey's tasting room is located in Sutter Creek.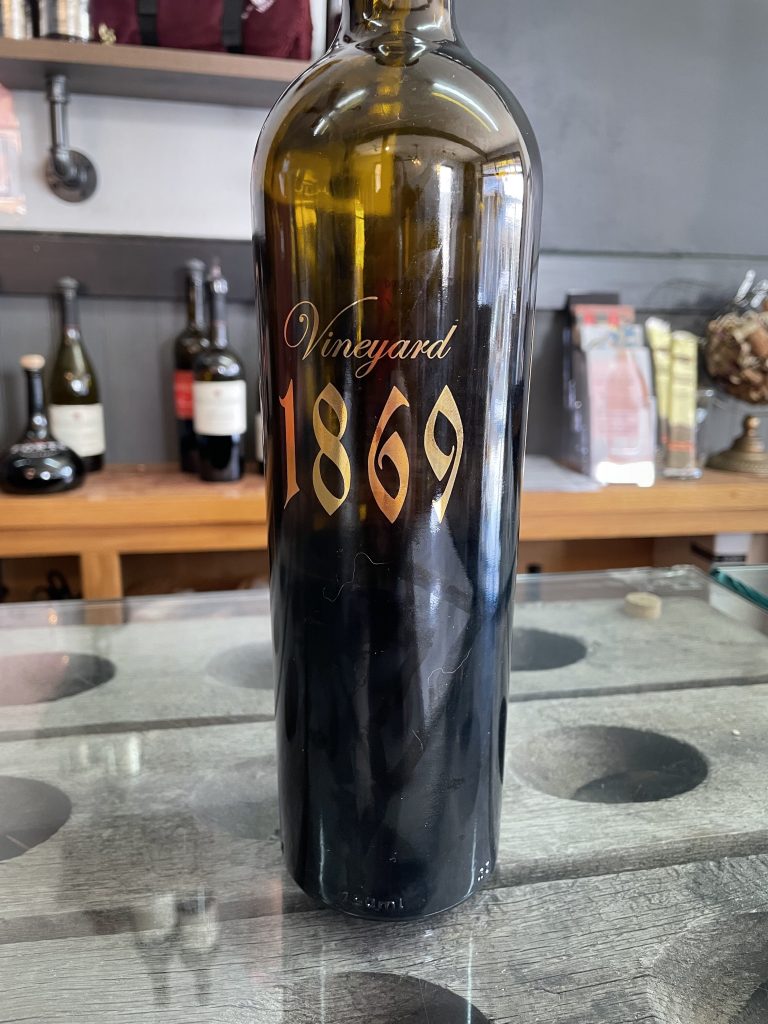 Wine seekers who trek as far north as Yuba County chance to stumble across something truly special and unexpected. Outside of Nevada City is the tiny town of Oregon House. Here is where some of the most fascinating Foothills wines are being made – by Gideon Beinstock and Saron Rice. They have been tending their "Home Vineyard" and making wine for their Clos Saron label since 1995. 
When the vineyard came into the couple's possession, it was completely hidden by ponderosa pines and live oaks. Early on, they noticed the Bordeaux varieties planted were ill-suited to the cool microclimate. The wines came out green and anemic. So they decided to re-graft the vines to Pinot Noir. They also doubled the planting density via provignage or "own-rooting."; They started a new vine on its own roots between every two grafted vines. This is now referred to as the "Old Block" part of their 2.5 acre vineyard.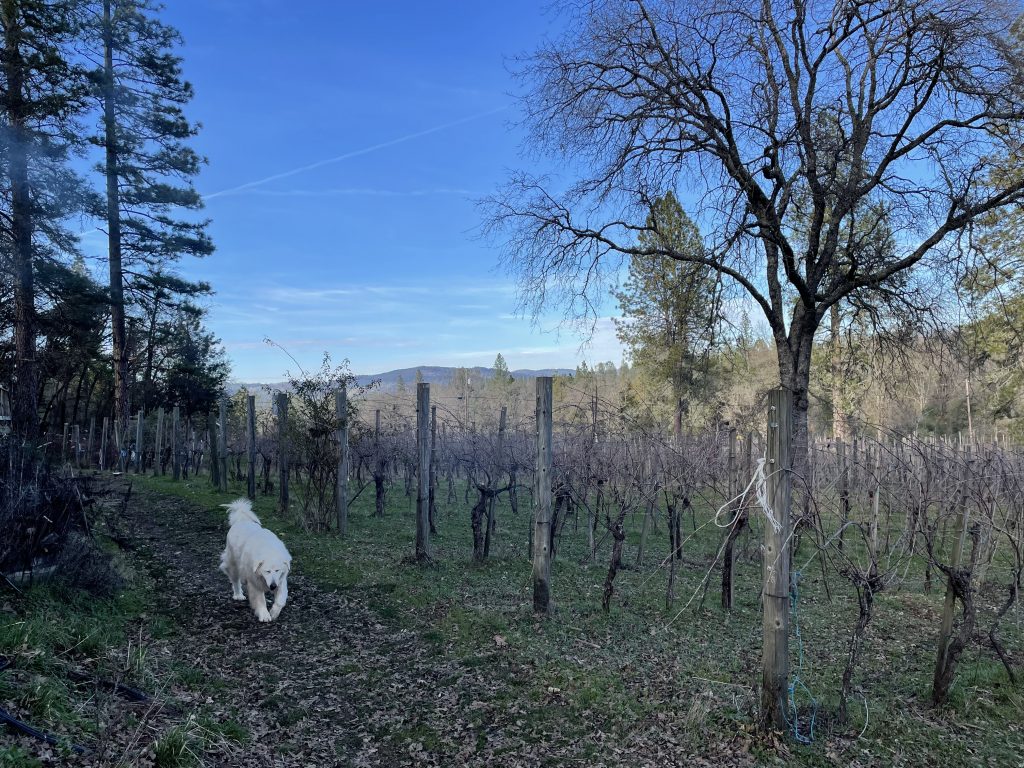 The Home Vineyard sits at the base of a small valley at roughly 1,500 feet elevation. It faces northeast and receives limited sun exposure due to the surrounding ridges, so the microclimate is quite cool. The soils are composed of clay-loam over volcanic ash (a very low vigor soil). The net effect of all these conditions is a drastically limited grape yield. An average of one ton per acre is now common for the old vines, which is unbelievably low by California standards.
Before establishing Clos Saron, Gideon Beinstock was the winemaker for nearby Renaissance Winery. Fans of well-aged California wine will attest to the impressive quality and longevity of the wines made during his tenure. Before he made it to American shores, Gideon was mingling with some of France's most renowned viticultural luminaries. Living as an artist in 1970's Paris, he befriended the late wine purveyor Steven Spurrier. Spurrier introduced him to the likes of Charles Rousseau (Dom. Armand Rousseau), Noel Pinguet (Dom. Huet), Rene Lafon (Comte Lafon), and Michel Lafarge – among many others.
Gideon says he "lucked out" getting to meet such pioneering vignerons as he began to consume and appreciate wine. He was inspired by their craft, their commitment to farming, and their dedication to the expression of terroir. The seed was planted. Gideon would go on to become an avid wine grower himself, albeit thousands of miles west in the Sierra Foothills of California.
Gideon's philosophy of winemaking at Clos Saron has always been artisanal and intuitive. Grape bunches are harvested in multiple passes through the vineyard. Each cluster is selected by feel. As a native of Israel, Gideon uses a familiar analogy: he selects grapes to harvest in the same way one gently palpates an avocado for ripeness. The only technical measurement he takes throughout harvest and the winemaking process is sugar content via Brix.
Grapes are received gently and crushed by foot. Only a slight amount of sulphur is added at crushing. Afterwards, there is nothing either added or removed from the grape must – no selected yeasts, no nutrients, no enzymes. The must cap is manually patted down during maceration. Most wines undergo pressing in a bladder press. The finished wines are racked into used barrels where they stay until bottling – often up to 3 years. There are no subsequent rackings, finings, or filtrations. A small amount of lees is usually allowed to enter the bottle for enhanced protection from oxygen and longer aging potential.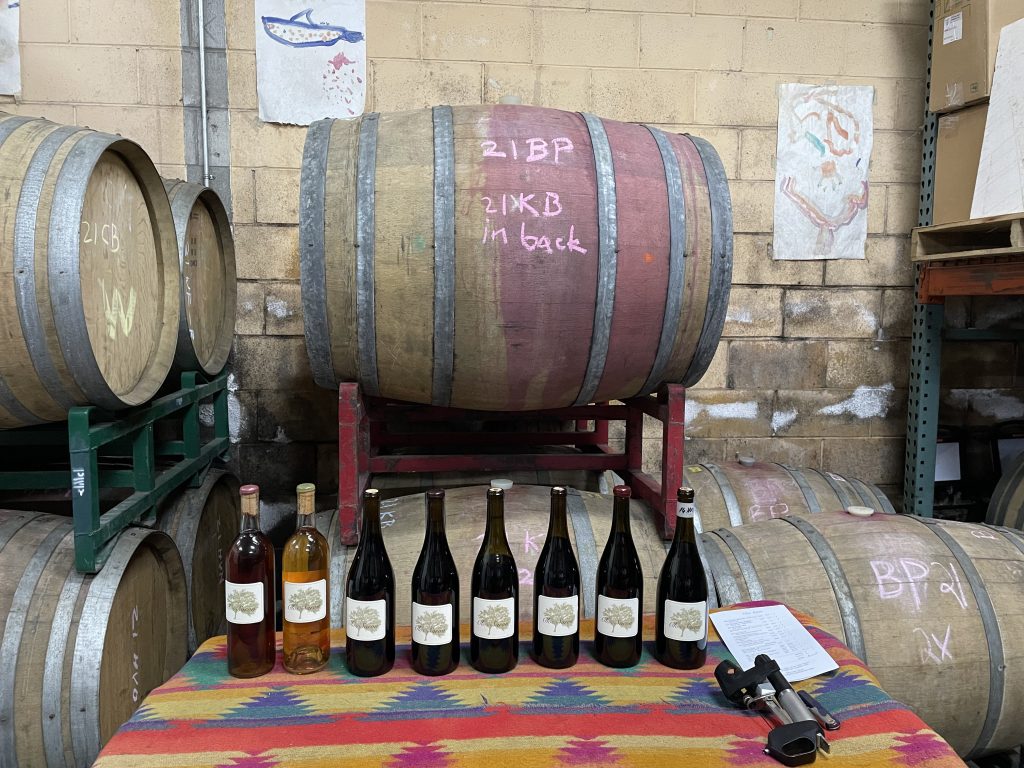 Aside from Pinot Noir, the couple work with a rocky, high-elevation vineyard to make their "Stone Soup" bottling. This is a Syrah-based wine containing about 10% Viognier from the same vineyard. Stone Soup delivers on the textbook attributes of Syrah. It somehow manages to be dark and brooding and at once lifted and ethereal. On the nose and palate, violet florals intermingle with smoked meat and peppery spices.
A quirky rosé is made from early harvested Syrah plus an array of white and red varieties. "Tickled Pink," as it's named, is a lively, sapid wine that combines fruit and floral nuances. In addition, it positively bursts with umami. This is a gastronomic wine, nimble enough to cross between food pairings as disparate as raw oysters and hearty lasagna.
The "White Field" is an intriguing blend of Roussanne, Riesling, Viognier, Sauvignon Blanc, and Petit Manseng. These varieties were deliberately cultivated in a neighboring field once their performance was evident. The wine speaks for itself; It shows a deep sense of power and vibrance. All of the Clos Saron wines belie a kindred latent energy, but the White Field bristles with tension between resonant fruit and racing acidity. A strong case can be made for the ancient tradition of field blends. Often they amount to much more than the sum of their parts.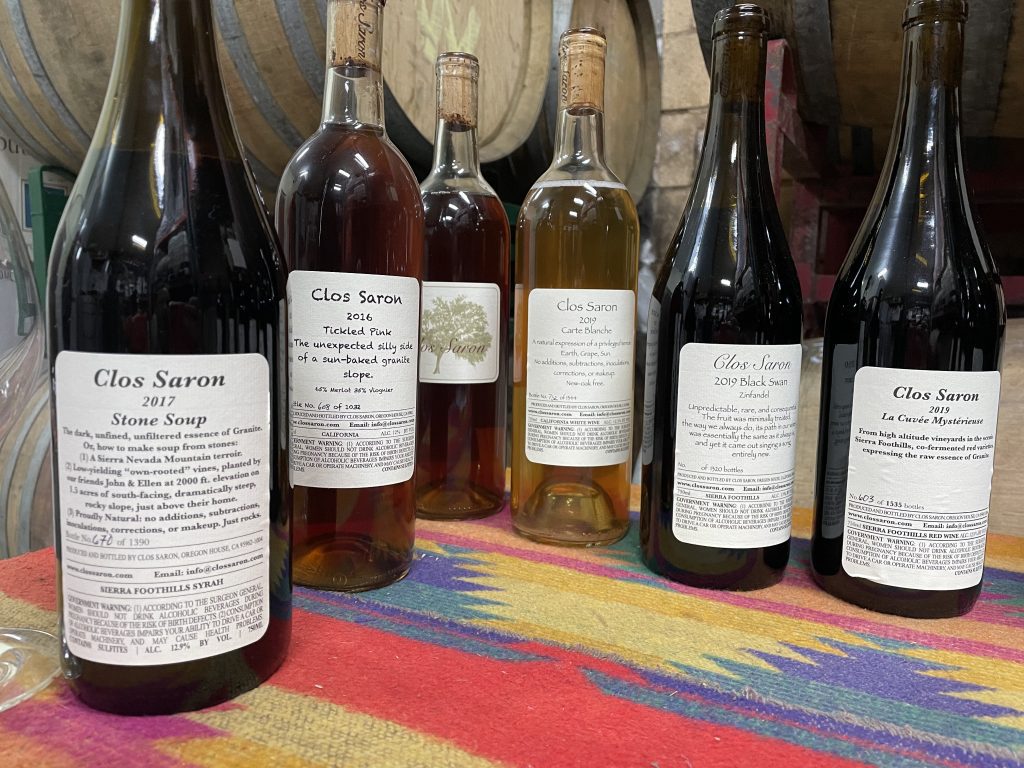 Gideon has made curious observations about the character of his wines as they age. He remarks that the vineyard asserts more of an influence on taste for the first 8-15 years. He says the young wines are "somehow more forceful, more superficial. Their innermost self is hidden at first." At a certain point, each wine begins to reveal its varietal identity. It's as if the wines are comparable to people. Only after adolescence does a fully-fledged personality begin to emerge, rich with nuance.
To test Gideon's assertions, I took home a 2007 Old Block Pinot Noir. Tasted at dinner one night among a group of friends, the wine was beautiful: layered and expressive. It had astonishing delicacy matched with powerful intensity, resulting in several raised eyebrows and "Oh wow's". I resist the temptation to draw comparisons with top flight Burgundies. Suffice it to say this odd, little Pinot Noir from the Sierra Foothills is really something special.
Unfortunately, climate change has been wreaking havoc on the marginal vineyard of Clos Saron. Severe drought, heat, and the threat of spring frost all spell doom for the fragile vines. Gideon and Saron are doing their level best to rescue the plants. One of the latest tools in their arsenal is the Simonit and Sirch method of minimal vine pruning. This method prescribes small, precise pruning cuts – made sparingly. Pruning less aggressively helps to maintain the vigor and sap flow of the vine. Sap is the vine's lifeblood, essential to the health of the plant. Moreover, pruning wounds are entry points for fungal and bacterial disease. They are best kept to a minimum. Perhaps with more careful pruning, the vines will conserve more of their vital energy and continue to bear fruit for years to come.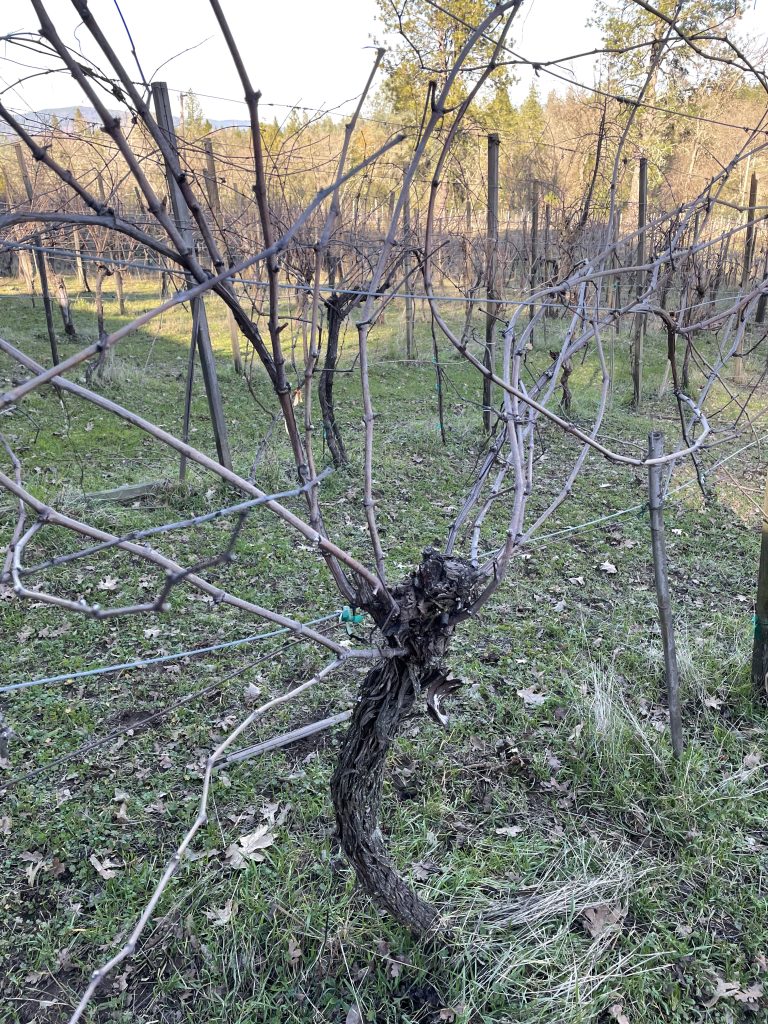 Spring frost has been particularly malignant in this corner of the foothills. Bud break occurs 3-4 weeks earlier than it did 30 years ago. The vines are increasingly susceptible to frost events. And there is only so much a vigneron can do to limit the effects of frost. There are virtually no human interventions available when an entire area is engulfed in a mass of cold air. Time will tell if the Home Vineyard can survive this changing climate.
Despite a dark and uncertain future, this California winemaking couple learned how to coax the true potential from their sub-alpine vineyard. The wines of Clos Saron are imbued with an innate energy that is amazing to experience. Perhaps it is their gentle handling of the fruit that preserves so much of the wine's vinous life force – which then takes years to unfurl in the bottle. 
To learn more about Clos Saron, I encourage you to read Alder Yarrow's detailed piece on his Vinography blog.