The world's most famous fortified wine is rich in history, style, and flavor.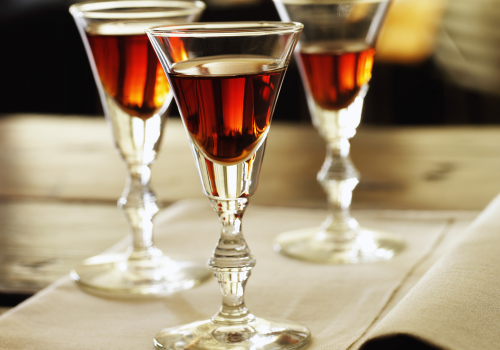 Port wines clock in at around 18-22% alcohol by volume and at least 17 grams of residual sugar. Most bottles of port will contain around 100 grams of residual sugar. For comparison, the average red table wine hovers between 12-15% and has less than 4 g/L of residual sugar. Port is strong but sweet.
The vineyards that supply the grapes for making port are located on the impressive, pyramid-shaped slopes of the Douro River Valley. For generations, local growers carved terraces into the steep hillsides on which to plant grapevines. The major port grapes are all native Iberian varieties: Touriga Nacional, Tinta Roriz, Touriga Francesca, Tinta Cao, Tinta Barroca, and Tinta Amarela. The Douro Valley is often cited as the most awesome wine region to behold in the entire world.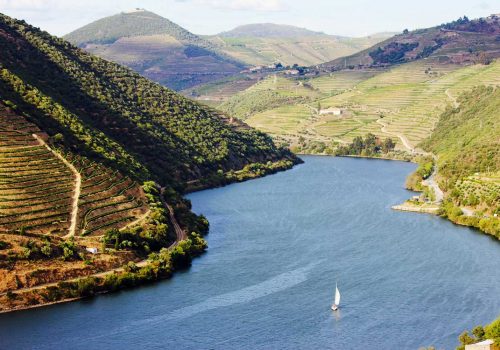 The geology of this region is part of the ancient European basement. Soils here are shaped from a bedrock of Cambrian (500 million year-old) schists: layered, compacted shale and mudstone. Vineyards are ranked using a matrix of 12 quality factors, including position, orientation, topography, geology, slope, and altitude. The best port vineyards are allowed to allocate large percentages of their grapes to the production of fortified wine.
In the late 1600's, British travelers first took notice of the wines being made in the Douro Valley – especially the ones treated to the process of "beneficio" or fortification. By adding brandy to the grape juice before fermentation was finished, the producers of port created a reliable and durable style of wine. Both the potency of the alcohol and the leftover sugar helped preserve the wine's freshness and character. These wines could conveniently withstand the ocean voyages from Oporto to the British Isles.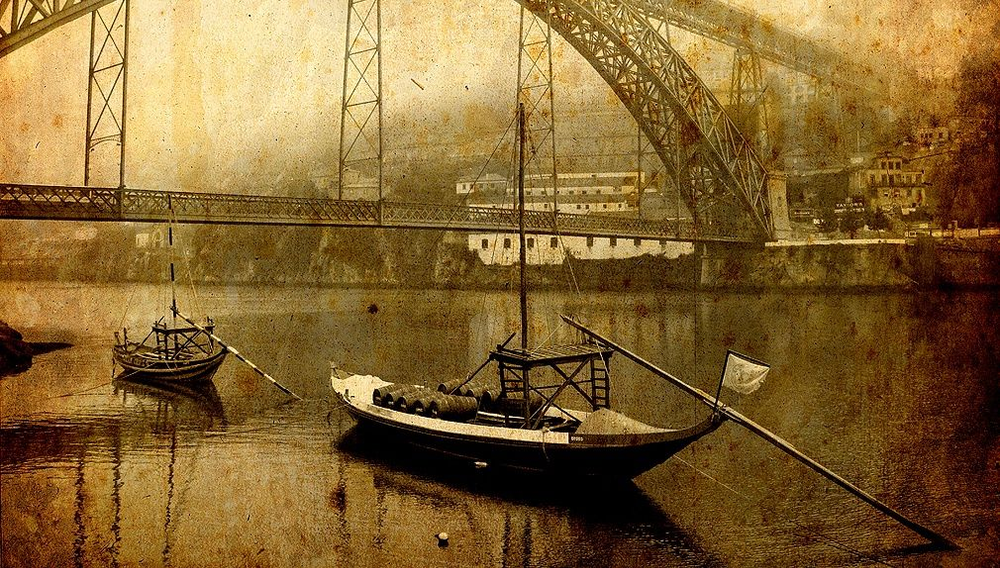 British merchants set up important shipping houses in the port cities of Vila Nova de Gaia and Oporto. From here, the wines could be aged and then shipped to England.
There are two distinct overarching styles of port : Ruby and Tawny.
Ruby ports have a darker color. Their flavor profile is fruity (blackberry and blackcurrant) and spicy, and they possess a fiery exuberance. Ruby ports generally spend more time aging in bottle than in wood.
Tawny ports are amber colored. They are aged for long periods in wooden casks, and are thus subjected to increased oxidation. This contributes to a more mellow style of port. Tawny ports display sweet, caramelized, and nutty flavors.
Quality tawny port will usually be labelled with an age designation. Wines from different vintages are blended together to create an overall impression of age. For example, a 10-year tawny will taste lighter and less intense than a 40-year: which will have the most roasted, nutty, and caramelized notes of them all.
Basic ruby ports are aged for 2-3 years in bulk containers. They constitute the simplest style of ruby port, and are good for everyday drinking. "Reserve" Ruby represents the next step up in quality, showcasing more complexity and refinement.
Late-Bottled Vintage Port is a middle ground between Vintage Port and Tawny Port. These wines are the result of a single vintage but are aged in cask for 4-6 years. This gives the wines a chance to soften somewhat, but still retain their youthful and fruity personalities. The flavors are a mix of ripe and dried fruits and spices. Many of the top examples may improve with further bottle aging. Most LBV Ports are filtered and do not require decanting.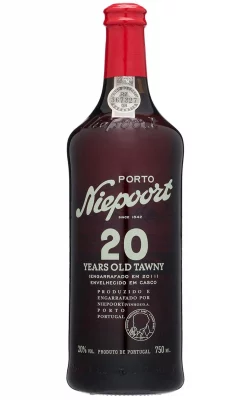 The most venerable style of port is Vintage Port. Vintage Port is a ruby port made in a single, outstanding vintage and aged in cask for less than 3 years. Port houses or shippers will only make a vintage port in years where they deem the growing season to be exceptional. Historically, most producers will only declare port vintages about 3 times per decade. Vintage Port can age for decades and develop extraordinary complexity. It's usually most rewarding to drink a great vintage port when it reaches at least 20 years of age. Decanting becomes essential with vintage port, as over time sediment is sure to accumulate. Vintage Ports will either be a blend of wines from different vineyards, or harvested from an individual estate – in which case they are called Single Quinta Vintage Ports. These wines are interesting to compare with one another because they represent the unique expressions of their respective vineyards.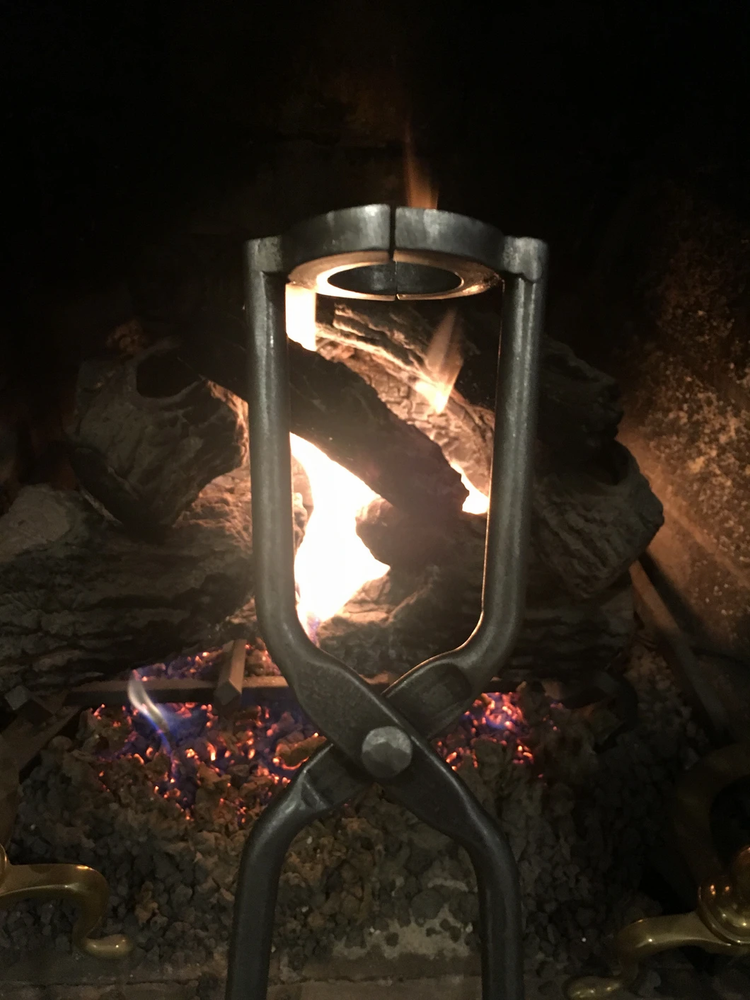 "Tonging" is an old method for opening old bottles of port. Port tonging is a way to avoid cork removal issues by detaching the entire neck of the bottle. The tongs are usually heated by a flame and then briefly placed around the neck of the bottle. Once they are removed, the neck of the bottle can be wrapped in a damp cloth soaked in cold water or simply brushed with cold water. The rapid expansion and contraction of the glass provoked by the temperature differential will cause the glass to crack evenly. Port tongs should be used carefully and under the guidance of someone with experience.
There are also white and rosé styles of port. These styles function very well as chilled entry/aperitivo wines and can be intriguing components in a cocktail.
Both ruby and tawny port are best served with a chill at 55-60°. Food pairings can be especially fun and interesting with port, especially those that incorporate dried fruits, nuts, chocolate, vanilla, or butterscotch. Try a tawny port with seared foie gras and lentils, butterscotch pudding, or cheddar apple pie. Try vintage and other ruby ports with roasted squab or game hen, stilton or other blue cheeses, fried chocolate ganache, or marshmallow s'mores.